What is fast fashion?
Fast fashion is the devil's work. On one side, you have the cute clothes, the trends, the body positivity and on the other you have massive tons of waste (I'm talking 92 million tons of it every year), underpaid workers (let's say 1 to 4 Canadian Dollars a day for 12 to 16 hours of work), huge releases of greenhouse gases and so much more. End of the line, fast fashion is a no no!
Sustainability in fashion
Now I agree that some brands like Shein, YesStyle, H&M and so one have really cute, trendy, stylish clothes for really cheap. And I also get that you don't want to spend a large amount of money on things that you will wear probably only once. And that's the problem, having a fashion style that is fast, hence the term fast fashion. But don't worry: here are some solutions.
1) Timeless fashion: Buying essentials that look good every year
Let's look at it this way: a study done by Dr Jennifer Baumgartner shows that 20% of your closet is worn 80% of the time. In other words, most of your clothes are rotting away in your closet. Those clothes most probably end up in landfills! The solution: buying fewer, all year round clothes. Clothes that look good for years to come and that are good quality. This erases the need to buy and throw out clothes in a cyclic fashion. Not only do you contribute to helping save the planet, but you save your money, your time spent on shopping and trying to put together the perfect outfit, and a huge amount of space in your closet. The minimalist, essential look and lifestyle is a big help when you're trying to be sustainable!
Men's timeless fashion:
Pair of denim jeans
Blouse or button up shirt
Shoes (basic ankle or oxford shoes)
A pair of sunglasses in the summer
Scarf for the chilly days
You do you!
https://youtu.be/OMDIUTFhR78 (extra tips)
Women's timeless fashion
A pair of skinny or loose fitting jeans or pants
A trench coat
Sweater or blouse
A small purse or backpack
Shoes or sandals
The options are limitless
https://youtu.be/TuPyVPdH814 (extra tips)
2) Shopping second hand: Giving a second home to new clothes, upcycling & Making your own clothes
One person's trash is another person's treasure. Literally… so secondhand clothes are an option you should definitely consider!

Second hand apps such as Poshmark (not sponsored…unfortunately) are a great way to get rid of your clothes and make some cash on the side. Its also a good place to find good quality clothes for super cheap.

Upcycling: Make new clothes out of your old ones (all you need is a needle and thread)
Making your own clothes: From buying the fabric (recycled and sustainable of course) to sewing, making your own DIY clothes is not only much cheaper and sustainable, but also a blast to do!

Here's a fun project: make your own trench coat (a wardrobe essential) during reading week (if you aren't cramming for finals ;-;) https://youtu.be/Q2kthdm61pI
When choosing fabric try buying biodegradable, such as cotton, linen and hemp
3) Buying better quality that lasts longer
Buying something that is pricier but will last longer is something to consider when buying sustainable clothes. Since most are made ethically, the prices are slightly more expensive. However, you not only pay the price for something that is ethically good, you end with a piece of clothing that is far better quality than anything in any fast fashion store and will last you for much longer.
Many sustainable brands are much pricier but for the quality and cause, they end up being overall cheaper.
Brands
*None of these brands are sponsored (;-;)*
*all of this information is half facts, half opinion*
1) Girlfriend's Collective: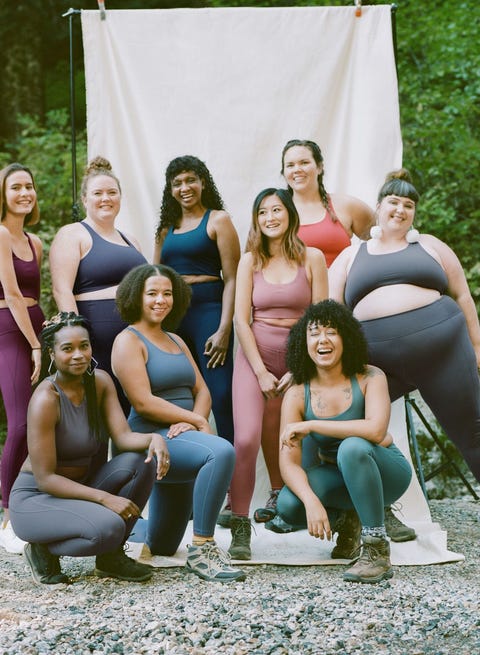 Clothing and Vibes
Lululemon fans, this one's for you
Sportswear (their leggings…absolute masterpiece)
Sustainability
100% recycled materials
Materials mainly made out of used water bottles
Created their own microplastic filter (it's only 45$)
Monitors its consumption
Fairtrade
I love love love (literally)
Price range
25$ to 200$ (excluding some puffer jackets that are 400$)
The leggings are the same price (sometimes cheaper) than Lululemon's
Rating
4.7/5

Reasonable for the quality
Size inclusive (XS-6XXL)
Model variety
Only sell active wear (-0.3)
2)

Everlane
Clothing and Vibes
Good store for transition from fast fashion to sustainable fashion
Sustainability
Use of recycled materials
…that's it
Price range
25$ to 300$
Good shop to start off with your sustainable journey
Rating
3.3/5

Claims to be "radically transparent" about their sustainability but… there's barely any information available
Not size inclusive
Limited use of sustainable materials
Basically, it's a one time buy
Very good for beginners who are looking into getting sustainable clothing, so definitely check it out and form your own opinion.
Extras
Here's another blog that goes over a complete review of Everlane and some of their best selling products:
3)

Pact
Clothing and Vibes
Casual wear (mainly essentials and monochrome outfits)
Similar to Everlane's clothing style choice
Sustainability
Transparent with their production
Recycled materials
Fairtrade
Carbon conscious shipping
Reusable packaging
Price range
25$ to 300$ (most ranging around 80$ to 200$)
Overall rating
4.3/5

Its more on the expensive side
Kind of size inclusive (XS to 2XL)
Model variety is much more on the skinny side
Overall fairly good
4) Kotn
Clothing and Vibes
Casual, cozy, activewear, shoes (you can find anything)
Sustainability
All clothes are made out of organic cotton
The production is done in a small rural town in Egypt and all purchases help the children in that town go to school
Price range
Overall Rating
4.7/5

They have a wide variety of clothing and for good prices
Only make use of organic cotton (no other sustainable measures in place)
Size inclusive but not as much as Girlfriend's Collective
By far the cheapest with a bigger variety to pick from
Overall Thoughts
Hopefully the ideas above have inspired you to take a critical look at your wardrobe… and revamp it in a sustainable way. Besides… the brands I've mentioned here are great ideas for holiday gifts!